The 100% Club – Bringing 100% To Leasing Season
September 5, 2023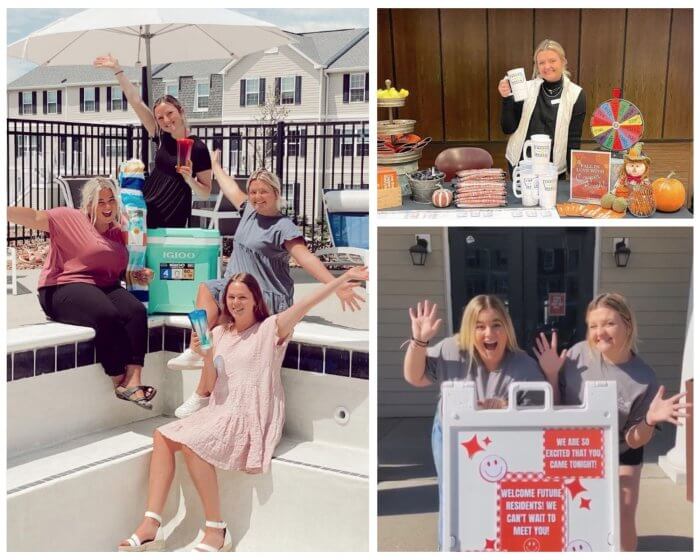 For anyone in the multifamily housing industry, leasing season brings the anticipation of tremendous change. Previous residents and new residents alike are ushered into a new season of life as they prepare to move into a new home and community. The transition from a resident's perspective is quick and seamless, but there is so much more to leasing season for everyone onsite behind the scenes. It takes the entire team banding together for a successful lease-up and one remarkable team that shone this season was Copper Beech at Ames.
Copper Beech at Ames transitioned to Cardinal's management in December of 2022, making this the community's first leasing season with Cardinal. At the time of transition, Copper Beech was at 67% leasing with a focused goal of reaching 91% for 2023. This goal set the stage for the community, creating an exciting opportunity for substantial growth for the community.
With guidance from new management and additional support for the community, the team achieved 100% leasing for Fall 2023. This marked the community's first year for 100% leasing since its construction in 2014 and served as a testament to the team's efforts this season.
Copper Beech exemplified Cardinal Core Values this leasing season with a commitment to collaboration and teamwork. Without the hard work and dedication from everyone on the team, this success wouldn't have been possible. From the maintenance crew to the leasing team, each person brought a hustle to this lease up that firmly earned it its spot in the 100% Club.
This leasing season laid a firm foundation for Copper Beech going forward, with a 45.7% renewal retention base for 2024 and a remarkable 5.5% rate growth from the previous lease-up. We're very excited to see the continued success of Copper Beech and all of our communities here at Cardinal!
We want to celebrate all of the teams that joined the 100% club this year – let's hear it for our communities below!