Celebrating AAPI Heritage Month with Cardinal Connects AAPI
May 16, 2022
By: Jocelyn Hsueh, Senior Consulting Analyst, and Leah Sugai, Assistant Portfolio Manager – Co-Chairs of Cardinal Connects, AAPI Business Resource Group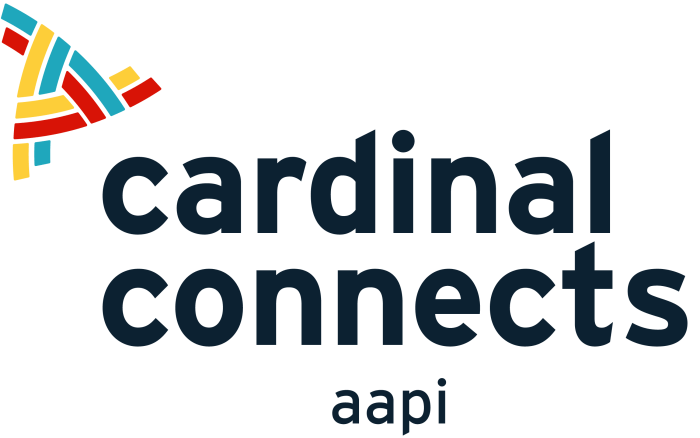 May is Asian American and Pacific Islander (AAPI) Heritage Month, commemorating all Asian/Pacific Americans in the United States. Did you know that AAPI Heritage month first began as a week-long celebration? It originated in June 1978 when a resolution was proposed in Congress that the first ten days should be dedicated as Asian/Pacific American Heritage Week. It was later passed and signed by President Jimmy Carter in October, with the first celebration in May 1979. It wasn't until 1990 that the proclamation was expanded from a week of observance to the full month of May.
Many of you are probably wondering how did Congress go about choosing May as the month to celebrate AAPI members? May was selected as AAPI Month to honor the first Japanese immigrant who arrived on May 7th, 1843, and to mark the anniversary of the Transcontinental railroad's completion on May 10th, 1869. This transcontinental railroad was built mainly by Chinese immigrants. The transcontinental railroad connected the two coasts allowing for commerce expansion.
With the increase in anti-Asian hate crimes and racism since the coronavirus pandemic, this a month to reflect, educate, and raise awareness of the history and current challenges AAPI members are facing during this time. Anti-Asian hate crimes and racism have always been present in the United States but were amplified and escalated during the pandemic.
Cardinal Group saw the importance during this time of creating a Business Resource Group dedicated to AAPI members to provide a safe space for AAPI members to connect, share, and discuss. This led to the launch of Cardinal Connects AAPI in May 2021, during AAPI Heritage Month. During this time, we met with other team members, shared our stories and challenges, and discussed ways to overcome microaggressions and stereotypes that we have faced in the workplace. Since the creation, we have been able to connect with others and create a channel where other team members can discuss experiences and share their overcomings.
In honor of our heritage month, Cardinal Connects AAPI will be celebrating this month in many different ways:
Monthly Connect Meeting with our Allies – Thursday, May 19th
We hope to share and reflect on many worldwide events that have occurred and affected many of our AAPI communities. With this being our first meeting open to Allies, we would like to address any questions that our fellow Allies may have for our AAPI team members.
CV#2: Build an open and honest relationship with communication.
AAPI Trivia – Wednesday, May 25th
Come join us for a fun trivia learning experience on AAPI history.
CV#7: Pursue growth and knowledge.
AAPI Cooking Demo – Tuesday, May 31st
Watch a virtual cooking demonstration of our fellow AAPI team members' favorite food.
CV#3: Be adventurous, creative, and open-minded.
Looking for more ways to celebrate AAPI heritage month?
We recommend visiting and supporting local Asian American and Pacific Islander restaurants and shops, watching movies with AAPI cast, and reading books. Many cities host AAPI celebrations with movie viewings, traditional and creative culinary experiences, AAPI guest speakers, and art galleries.
We look forward to celebrating this month as a company with all of our AAPI team members and allies at our events this month!