A Student Housing Synopsis – Cardinal Group Consulting Recaps 2022 and Looks Ahead at 2023
January 20, 2023
Cardinal Group Consulting completed 15 market and feasibility studies, 24 due diligences, and consulted on 20 new developments in 2022. From this experience, as well as continued market research, the team watched as fall 2022 continued to showcase student housing's peak performance, with pre-leasing velocity, occupancy rates, and rent growth, all seeing positive results. Now, as we ring in the new year, 2023 is already off to a great start, with an increase in college applications, significant pre-leasing velocity, and notable rent growth.
LOOKING BACK AT 2022
ENROLLMENT
While it has been reported that total enrollment decreased 1.1% for fall 2022, there is a wide disparity between lower tier universities and top tier, highly selective universities. Highly selective public four-year universities saw a 0.6% increase in enrollment while less selective public four-year universities saw a 3.1% decrease. Taking an even closer look, Power 5 Schools have been growing, and continue to grow. Power 5 Schools within RealPage 175 saw a 5.2% increase in enrollment, while Non-Power 5 Schools' enrollment declined 0.6% from 2017 to 2021. This trend continued, as preliminary data for Power 5 Schools revealed 27,000+ new students enrolled for fall 2022, a 1.3% increase from fall 2021. Preliminary data for first-year enrollment also increased, with 11,000+ new freshmen, a 3.7% increase from 2021.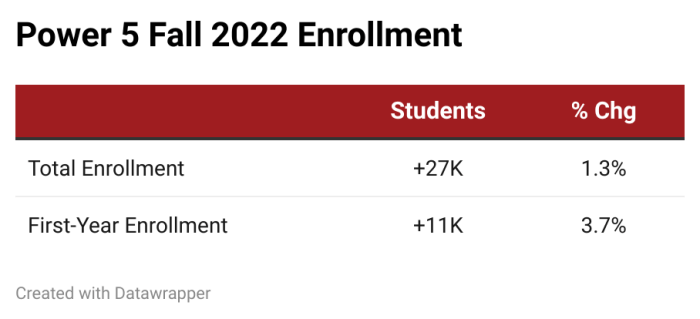 PERFORMANCE
Occupancy for fall 2022 reached 93.7%, 2.5% higher than fall 2021. Tier 1 markets continued to outpace other markets with lower student populations, seeing 94.6% occupancy as of September 2022, compared to Tier 2 and Tier 3 markets which ended at 92.% and 91.6%, respectively. According to Yardi Matrix, 27 student housing markets were pre-leased to 100% for the fall 2022 term.
At the end of leasing season, the average rent was $820, 4.13% higher YOY than 2021. Not only was the average rental rate up from 2021, there were limited concessions offered for the academic year 2022-2023. According to RealPage, from fall 2014 to fall 2021, an average of approximately 18% of beds utilized concessions in the months of May, June and July. However, for the fall 2022 pre-lease season, concession utilization in those three months was approximately 8% – or 10%+ below the average.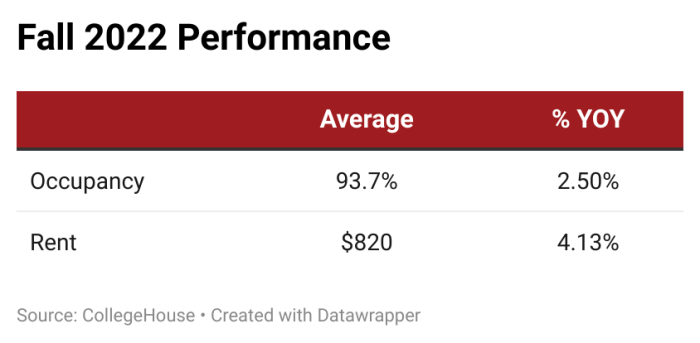 SUPPLY
According to RealPage, approximately 30K beds were delivered in fall 2022, marking the lowest annual delivery since the Great Recession. With 51,000 beds as the average delivered per year since 2014, 2022's delivery pipeline sits 41% below the historical average. Supply delivered in 2022 was also concentrated in several markets, with UT Austin at top of the leaderboard with over 1,000 beds delivered.
LOOKING FORWARD TO 2023
With student housing experiencing record performance for the academic year 2022-2023, Cardinal Group Consulting is now looking ahead to what is in store for 2023.
ENROLLMENT
As of November 2022, CommonApp reported a 26% increase in first-year college applicants and a 41% increase in total application volume from 2019. As of October 2022, when FAFSA applications opened for fall 2023, 25% more students YOY completed a FAFSA application. Typically, students who apply for FAFSA are more likely to enroll in higher education, so this increase could be a solid indicator of future enrollment growth. IPEDS projects long term enrollment growth of 2.03% for the under 25 age group, and 5.40% for those 25 and older over this time period.
PERFORMANCE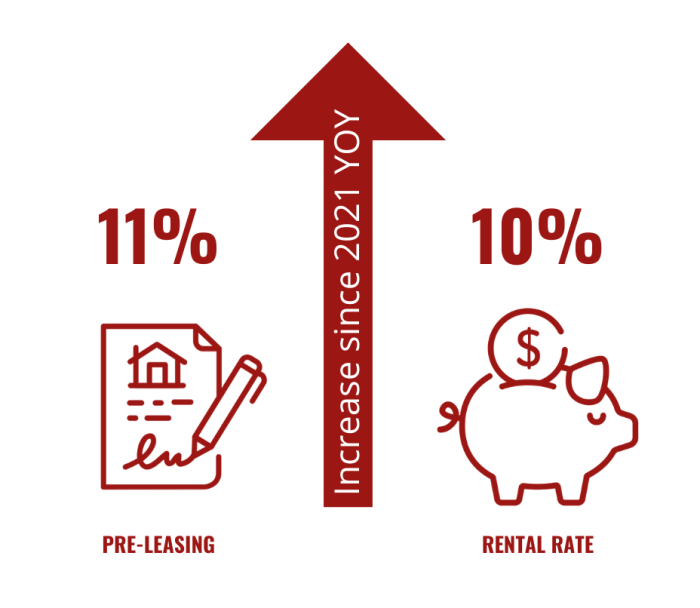 As of December 2022, pre-leasing velocity was at 44%, 11% higher YOY. The average rental rate was $874, 10% higher YOY. Several major markets are already over 80% pre-leased for fall 2023, including UT Knoxville, University of North Carolina at Chapel Hill, University of North Carolina at Asheville, Purdue University, and University of Wisconsin, Madison.
SUPPLY
While the 2023 pipeline is expected to be larger than 2022, it is still projected to trail the historical average. RealPage is projecting ~36,000 beds scheduled to be delivered by fall 2023, which is approximately 20% more than 2022, however still 29% below the historical average. Even with this increase, a majority of the pipeline is also concentrated in markets such as UT Austin, Indiana University, Georgia Tech, University of Central Florida, and University of Maryland.
Cardinal Group Consulting specializes in providing consulting services to the student housing and conventional multifamily industries as well as niche sectors such as built-to-rent. We provide a diverse range of services including market research, due diligence, capital planning and pre-development design. For more information, contact consulting@cardinalgroup.com