100% Club – Champions of the Market
August 29, 2022
By: Monica Samson, Area Manager of The Ruckus on Nueces, The Ruckus on Rio, and The Corner in Austin, Texas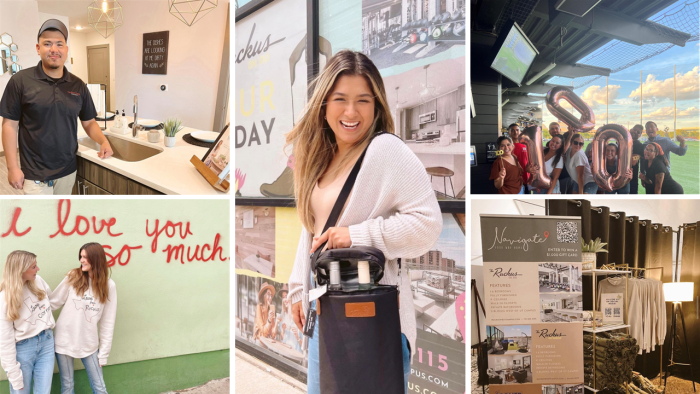 Preparing for a new leasing season is both an exciting and nerve-wracking experience. It's almost comparable to the feeling of pre-game jitters when you know you've done all you can to prepare but don't always know exactly what to expect. This leasing season showed us that with teamwork and dedication, we would be able to create a playbook to get our team to the 100% club.
In any game, it's normal to experience setbacks. When we ended the 21-22 leasing season at 76% between our three communities, we knew we needed to make major changes to the playbook. We spent countless hours building our brand, boosting our online presence, and pouring time into training our coaches and players to provide the best experience to our prospects and residents.
By putting ourselves in our resident's shoes, we focused on how to have the best resident events, provide the most comfortable living environment, and create impactful interactions with them in person and on social media. All the effort we put in showed when we ended the year with two of our communities in the top 25 ORA scores in the nation. It was a huge accomplishment for our team and a testament to the growth and development we have been able to experience during our time with Cardinal.
This leasing season showed our team the importance of learning the fundamentals of the game. We embraced our core values, focused on the Cardinal Way of Leasing, and prioritized our residents' satisfaction daily. But, most importantly, it was the love of the game that helped us create fun and bring our best each day to succeed together as a team.
A HUGE congratulations to all of the teams that joined the 100% club this year. Let's continue to make an effort to improve our playbooks every year and make Cardinal Group the champions of the market. Let's hear it for our communities below!