Cardinal Group Experiences Growth in Student Housing Portfolio and Addition of New Team Members in Q2
July 8, 2021
DENVER, CO – July 9, 2021 – As colleges and universities are prepping for return to campus, and daily life returning to a new normal, it feels as if the worst of the pandemic is behind us. The beginning of 2021 brought growth to Cardinal within the student housing portfolio and with the abundance of new team members. Thus far in 2021, the student portfolio has grown 25%, adding over 16,000 new beds. This growth is reflective of expansion with 7 existing relationships, as well as several new partnerships. As a result, this expands Cardinal's footprint to 11 markets we were not previously operating in. Along with growth to the student portfolio, Cardinal has added over 700 new team members across the country in 2021 with a focus on training, onboarding, and team member engagement.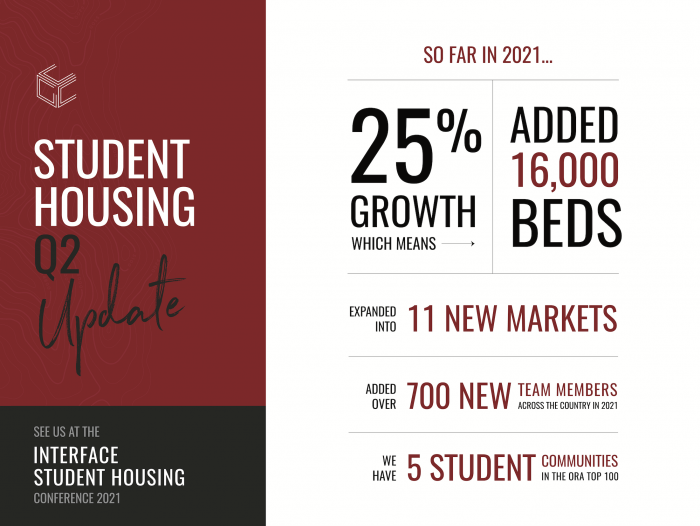 Alongside welcoming these new communities and team members, the Cardinal team remained focused on portfolio performance for existing communities. Despite the lag in preleasing across the nation, Cardinal's student portfolio tracked inline YOY throughout the fall, putting a heavy emphasis on retention and customer service. In Q1, we slowly inched ahead of the prior year. In Q2, we saw traffic and leasing spike significantly as vaccine distribution increased and Universities across the nation announced plans for full reopening. Cardinal's portfolio rounds out Q2 over 8% ahead of the prior year and tracking along with its respective markets. 12% of Cardinal communities reached 100% pre-leased in Q2.
A large part of our leasing success is a focus on customer service and the resident experience. The J Turner national average for ORA score is 66.49 while the Cardinal portfolio average is 72.89. Cardinal had 5 student communities in the ORA top 100. Reputation is an essential component of leasing and remains a big focus for our teams.
"At Cardinal, our team is our strength. We are obsessed with team member engagement and by focusing on our team, we are yielding great results for our clients and their communities." said Jennifer Cassidy, Senior Vice President, Student Housing Operations, Cardinal Group. "I am looking forward to connecting with fellow industry professionals during the upcoming Interface and Apartmentalize conferences."
About Cardinal Group Companies
Cardinal Group Companies ("CGC") is a fully integrated real estate management, investment, construction, consulting, and marketing firm focused on multifamily and student housing throughout the country. Headquartered in Denver, Colorado, CGC affiliate companies are all firmly built atop the company's "Cardinal Culture." Since 2007, CGC has been operating successful partnerships, focused on creating efficiency and above market performance via their commitment to challenging the status quo of the industry. To date, Cardinal Group Companies has developed several best-in-class initiatives, which have earned the company national recognition year after year. CGC's management platform oversees 80,000+ student housing beds across the U.S., including CGC's owned portfolio and third-party managed properties.
To learn more about Cardinal Group Companies, please visit www.CardinalGroup.com.
Media Contact:
Cardinal Group
Ainsley Robinson
Email: Ainsley.Robinson@CardinalGroup.com