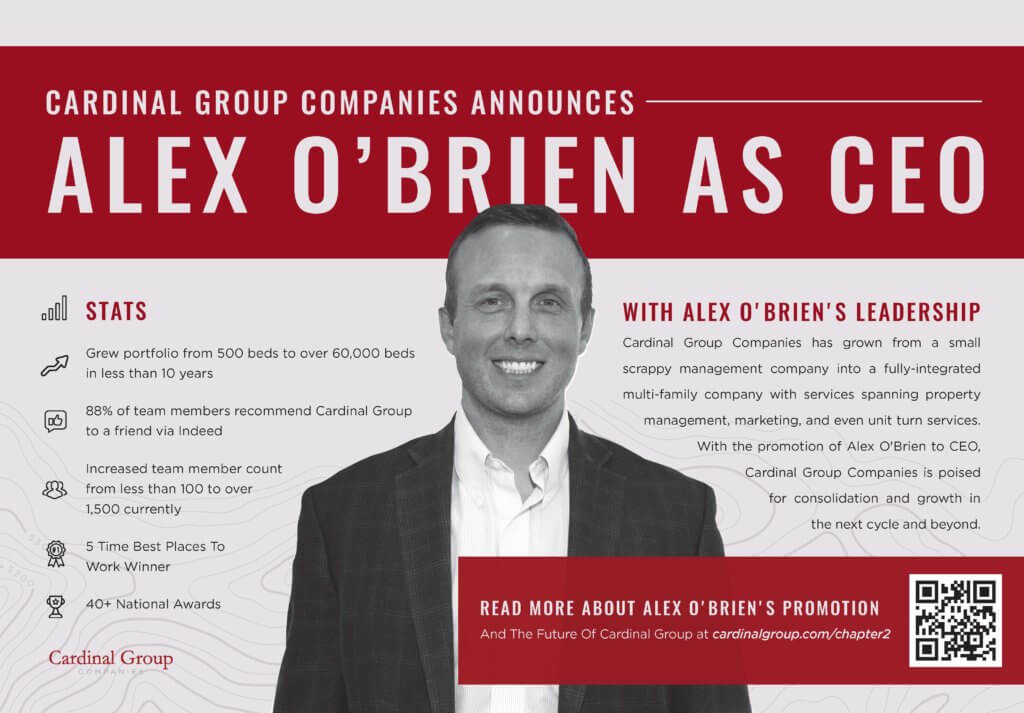 Cardinal Group Companies Promotes Alex O'Brien To CEO
June 5, 2020
Press Release – DENVER, COLORADO – June 1, 2020 – Cardinal Group Companies (CGC), a fully-integrated, real estate management, investment, construction, marketing, and development firm has announced the promotion of its COO Alex O'Brien to CEO. Former CEO, Del de Windt, will remain with the company as a Managing Partner, while working on new CGC verticals.
During its first 10 years, Cardinal Group expanded from the original four founding principals to employing over 1,500 team members nationwide. This growth trajectory not only included the firm's management company, Cardinal Group Management, but also included successful launches of a multi-family specialized marketing agency, Agency Fifty3, a construction management company specializing in value-add communities, Highside Construction, and most recently a specialized general contractor, The Turn Company.
Cardinal Group Management, the firm's management company has grown to over 60,000 beds nation-wide, making it the nation's third-largest privately-held 3rd party student housing management firm.
Cardinal Group has never set out to be the biggest student housing operator, "Our goal has always been and remains to be the best performer in our space. Whether that is our award-winning marketing agency helping clients reach leasing goals or our management company helping clients realize exceptional profitability, our mission is to be the best", says O'Brien.
"As part of our 2020 planning, we committed to taking stock of leadership at all levels and ensuring that we put the right people in the right seats", says Del de Windt, former CEO and Managing Partner. "We believe that the last 10 years was effectively the first chapter of the company's story – one where we built a best in class organization and achieved critical mass and legitimacy as a key player in the industry. As we begin our next chapter, the Board wanted to recognize Alex's leadership, both internally and within the industry, and collectively decided that he would best serve the organization as the Chief Executive. Having worked with Alex daily for the last 14+ years, I am personally excited to have him take the helm and am certain that he will lead the company to new heights during the next cycle and beyond."
In its next chapter, Cardinal Group looks to continue to supplant itself as an industry leader through it's best in class culture and award-winning portfolio performance. "I'm excited for Cardinal's second chapter with Alex at the helm", says Partner and EVP of Operations, Eddie Moreno. "Alex is committed to the culture of the company, defining the future of work, and ensuring that our vertically integrated organization continues to have a seat at the table as our industry comes out of COVID and the resulting recession and heads into the next cycle."
About Cardinal Group Companies
Cardinal Group is a fully integrated real estate management, investment, construction, and marketing firm focused on multifamily housing throughout the country. Headquartered in Denver, Colorado with offices throughout the United States, Cardinal Group is firmly built atop
the company's "Cardinal Culture." Since 2007, the company has been operating successful partnerships and is relentlessly focused on creating efficiency and above market performance via their commitment to challenging the status quo of the industry. To date, Cardinal Group has developed several best-in-class initiatives, which have earned the company national recognition year after year.
Name of Press Contact: Ryan Sundling
Phone: 303-407-4516
Email: Ryan.Sundling@CardinalGroup.com
To learn more about Cardinal Group Companies, please visit www.CardinalGroup.com.